Point Cook's Zane Borg and his mates had some epic stories to tell – so they decided to roll them all into a film. The...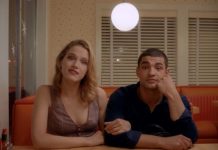 Actor Joshua Diaz is a star on the rise, with two films coming out next month. The former Wyndham Vale resident, and past player for...
It's time to do the jailhouse rock, mooch like Minnie and shake your tail feather. The Blues Brothers movie will be shown at Wyndham Cultural Centre, as part...
Burlesque, Blues Brothers and talking botany will all take centre stage at the Sunday Movie Club in Werribee. The program, which is running at the...
Werribee will come alive with the sound of music on Sunday, March 24. Wyndham Cultural Centre's new Sunday Movie Club will feature a big family...
The Blues Brothers movie, BABBA and Australian Booty are among some of the acts set to entertain audiences at the Wyndham Cultural Centre next...
A Little River bridge that featured in the 1979 film Mad Max is receiving a $500,000 upgrade. Kirk's Bridge, which appeared in a scene in...
Werribee resident Catriona Tyrrell is starring in a short film, to help raise awareness about the educational experiences of people on the autism spectrum. The...
A short film starring young Wyndham actress Mariah will screen at a Sydney film festival this week. Mariah, 11, spent three days filming The Passage...
A Point Cook actor and his mate have created a short film with a strong message. Clyde Boraine teamed up with Max Brown to create...
A Werribee actor's brush with Hollywood is inspiring her to return to make it onto the silver screen. The director of Screen Actors Werribee, Robyn...
Jessica Ricci has stars in her eyes and fire in her belly. The 21-year-old Hoppers Crossing resident, who recently received one of Wyndham council's mayoral...
Werribee's Josh Howlett has wanted to work in the film industry since he was a child. Now the budding producer's dreams might be about to...