A husband and wife have been left devastated after burglars ransacked their Point Cook house and stole many of their possessions, including their cars. The...
A Hoppers Crossing resident who says his dog escaped after an attempted break-in has been fined by Wyndham council for having a dog at...
Police have interviewed a 13-year-old boy in relation to two alleged break-ins at Alamanda College in Point Cook last month. Detectives from the Wyndham Crime...
Police are investigating a burglary in Hoppers Crossing this month. It is believed an unknown male broke into a house in the suburb earlier this...
Fifteen-year-old Olivia Conder has been hailed for her bravery after she called police during an aggravated burglary while she was home alone last week. Olivia...
Police are investigating after a burglary at an equestrian centre in Werribee South on January 9. It is believed a man cut through a chain...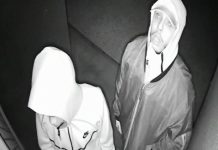 Police are appealing for information after two offenders broke into a Hoppers Crossing day care centre last month. Detectives said the pair forced their way...
Two burglaries within three months have devastated a Manor Lakes family. The family home of Jess McGennan and her husband, Jerry Peart, was first broken...