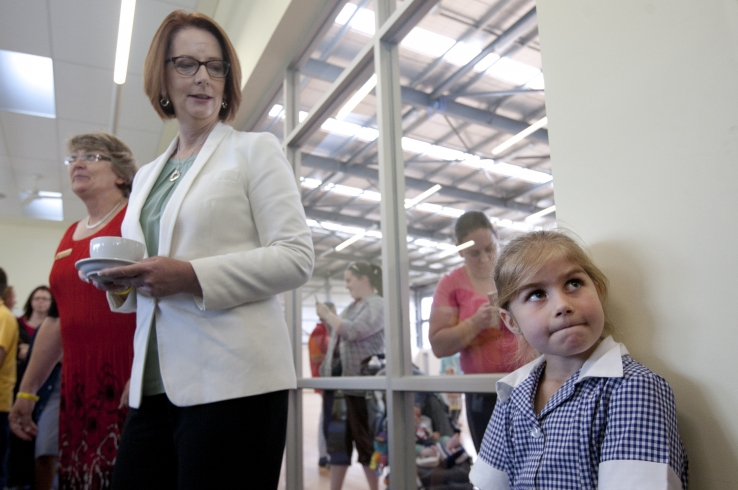 DURING a day of new leadership whispers, a week of vicious electioneering and a month of sliding opinion polls, Prime Minister Julia Gillard beamed with pride.
On Friday, Manorvale Primary School's new multipurpose hall, bankrolled by federal government stimulus money, was officially opened.
It's second time lucky for the Werribee school, after its first $3 million hall was razed by an arsonist three years ago.
Ms Gillard sat with a bouquet of pink roses in her lap, gazing over the hall jammed with pupils, parents and teachers.
Here, in her political heartland where she won the Lalor electorate with a comfortable 64 per cent of the 2010 vote, the crowd's adoration was in stark contrast to a grim outlook for Labor nationally. According to the latest Nielsen poll, the two-party preferred split has the government at 44 per cent and the opposition 56 per cent – a 6 per cent swing to the Coalition from the 50-50 result in 2010 and a landslide victory if carried through to election day on September 14.
Ms Gillard said she wouldn't flinch in the face of continuing speculation.
"I'll just keep getting on with it and dealing with the issues that actually matter and all of this kind of side commentary can do whatever it does.
"When I was education minister during the grim days of the global financial crisis, we needed to support education in our nation. We funded new buildings at 9500 schools across the country; 57 were in the Lalor electorate.
"Here at Manorvale, you had to do a really brave thing and face all the work, all that construction, twice. It's a tribute to everyone at the school. I'm very lucky to be the one who gets to declare this new multipurpose room open."
Pupils had knitted a dark-blue woollen curtain covering the plaque the PM unveiled.
Principal Helen Watson said the "senseless" arson had left the school community devastated. Without more government funding, she said, another $3 million would have been very difficult for any school to raise.
Western Metropolitan Liberal MP Andrew Elsbury criticised Ms Gillard for her five-day campaign in western Sydney this month, saying that clawing back popularity points had become her priority.
"If she's going to go out to the western part of Sydney and splash some cash, what about what she calls her own backyard?"