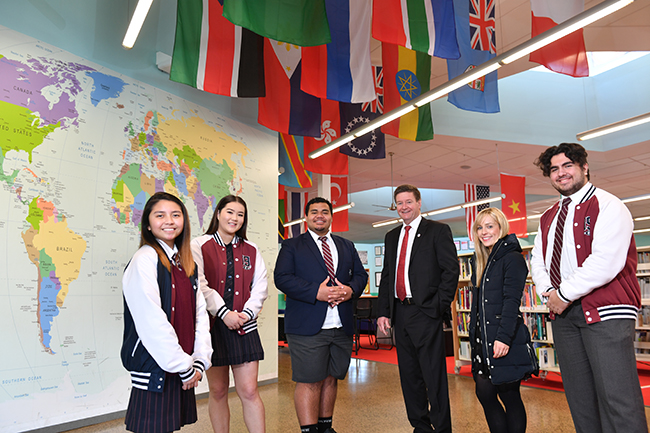 By Carole Levy
Since starting with 100 students in 2008, Point Cook Senior Secondary College has grown and flourished to become a high-quality school for years 10 to 12, with more than 850 students now enrolled.
Principal Christopher Mooney says the school is an excellent springboard into further studies, one that places a strong focus on student agency, voice and leadership. Extension classes, literacy and numeracy development and one-on-one careers counselling play an important role.
Anyone living within the Point Cook senior zone can find out more about Point Cook Secondary College's successful initiatives and how to enrol by attending the annual open night – from 7pm on Wednesday, August 7.
Information packages, enrolment forms and additional information and support regarding course counselling days will be provided.
Phone consultations are available for parents/guardians and students unable to attend.
In 2018, the school implemented the new four-day Orientation Program, running in week nine of term four for the incoming Year 10 cohort. The program allows students to become immersed in college life, culture and academic expectations.
Specialist programs have resulted in students finding success in their chosen pathways.
These include the Select Tertiary Admissions Master's Program (STAMP), which has a focus on maths, science and university connections; and ASPIRE, an accelerated learning program for motivated learners seeking challenge.
The college, part of the Hobsons Bay VET cluster, offers vocational studies in automotive diesel, beauty, building and construction, fashion and sport and recreation – among others.
Mr Mooney says the school's results are a great achievement for the students and the hard-working, dedicated teachers whose focus is always on improving student outcomes.
"The key to the college's academic success is the dedication to staff training," he explains. "I ensure our teachers have access to innovative professional development opportunities.
"In fact, most of our VCE teachers are involved in assessing VCE examinations through VCAA and understand the requirements for those units of study. As a consequence, we are able to tailor student education and study around what they really need to know."
The school's leadership program ensures student agency in all aspects of college life, while a Year 10 work experience program immerses students in their future pathways.
Point Cook Senior Secondary College, 23 Bergamot Drive, Point Cook. Inquiries: 9395 9271 or pointcooksenior.vic.edu.au