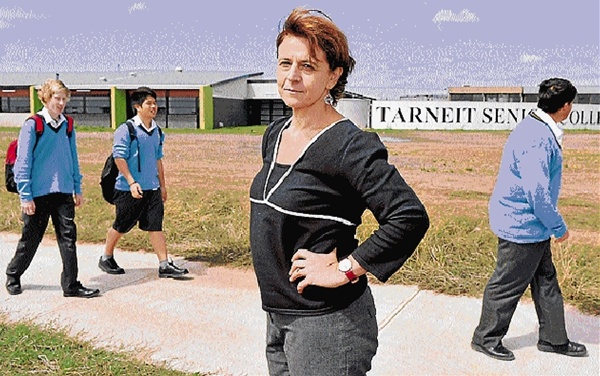 STUDENTS at recently opened Tarneit Senior College are walking 700 metres alongside a road to catch a bus because none stop at the school.
The government school, on the corner of Leakes and Begonia roads, opened this year, but the Transport Department has yet to arrange for a bus service near the school.
Principal Michael Fawcett said parents were worried about the safety of their children. The 700-metre walk along Leakes Road was made more dangerous given there were no footpaths, in some parts, for the students.
Mr Fawcett said he was made aware of the problem last year and met with politicians, and bus operators Westrans, in September to raise the issue. Westrans wanted to provide a bus service but did not have funding.
Mr Fawcett has since written to the Transport Department and to Public Transport Minister Terry Mulder, requesting a bus service.
"It's been a little bit frustrating," Mr Fawcett said. "Westrans have been good, but there's no funding so there's nothing they can do.
"Families have grouped together to form car pools, but they shouldn't have to. We need a direct bus route."
Mr Fawcett was involved in developing a new high school at Caroline Springs and said this was the first time he'd heard of a government school not being serviced by a bus.
Tarneit Senior College's problems follow reports that students at Suzanne Cory High School must walk to and from Hoppers Crossing railway station due to a shortage of buses.
As reported in the Weekly, students are walking along Hoppers Lane because buses from the station to the school are at 40-minute intervals.
A Transport Department spokeswoman said bus service improvements in Tarneit were being considered, subject to government funding.
She said Wyndham bus operations would be reviewed as part of planning for the new Williams Landing railway station and the Regional Rail Link.