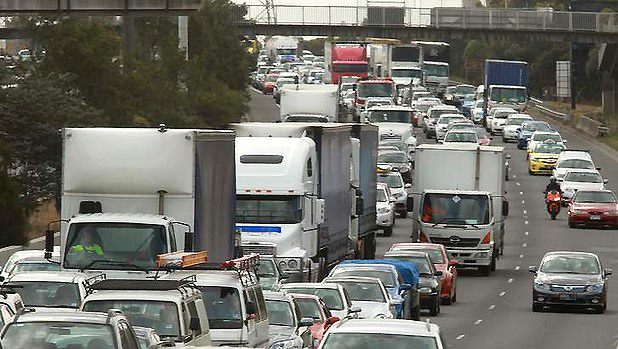 Travel times between the West Gate Freeway interchange and the city could be halved during the morning peak if a proposal for a second major Yarra River crossing gets the green light.
The state government is considering a Transurban $5-5.5billion Western Distributor plan that would connect the freeway to Melbourne's port, the CBD and CityLink.
The proposal includes twin three-lane tunnels from the West Gate Freeway-Williamstown Road junction through to the Whitehall Street-Somerville Road intersection in Footscray and an elevated road crossing the Maribyrnong River near Footscray Road, connecting with CityLink. Two extra lanes would be built in each direction on the West Gate Freeway.
Those behind the proposal predict it will ease gridlock and take more trucks off streets in the inner west and is a significant upgrade on the government's $500million West Gate Distributor plan, which included new on and off ramps, creating a direct route for trucks heading to and from the port.
Transurban chief executive Scott Charlton said the concept was submitted to the state government earlier this year under Victoria's new Market-led Proposals Interim Guideline.
"Our proposal minimises impacts on local communities, removes the need to acquire any homes and supports motorists and trucks looking for alternative connections to the city," he said.
Tolls would be introduced for motorists using the new tunnel and on heavy vehicles using the tunnel and upgraded West Gate Freeway.
Tolls for cars would be about $3, while trucks would pay about $13. Early works could begin this year and the project could be completed by late 2020.
Wyndham mayor Peter Maynard has thrown his support behind the Western Distributor.
"The gridlock generated by the overly congested West Gate Freeway has a flow-on effect to the local road network," he said.
"The prospect of an alternative to the West Gate Bridge and additional capacity added to the freeway would be life-changing for the people who spend up to three hours a day travelling to and from work."
Premier Daniel Andrews said the Western Distributor was being assessed by the Department of Treasury and Finance and reviewed by external consultants.
Opposition treasury spokesman Michael O'Brien questioned why motorists would pay a toll to take the Western Distributor when they could take the West Gate Bridge for free.
"The one project Daniel Andrews did take to the election was the West Gate Distributor. Now he has scrapped it for an alternative at 10 times the cost," he said.