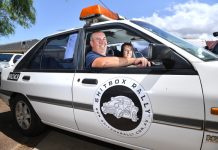 Brendan Andrew and Carmen Green are preparing for an automotive adventure across the outback. In May, the Werribee couple will take part in the Shitbox...
Enough tea, coffee, sandwiches and scones to feed an army were served up at last week's Biggest Morning Tea in Werribee. The Italian Sports Club...
Susan Grant was 38 years old and a single mum when she found out she had breast cancer in 2008. The Werribee resident had gone...
Wyndham Vale residents Nina Nilsson and Bec Salmon know what it's like to have a loved one diagnosed with cancer. Miss Nilsson's mother survived breast...
Melton friends Maz Brown and Joe Cussen are revved up to raise funds for a cause close to their hearts. The duo, who've lost many...
A CUPPA FOR THE CANCER COUNCIL: The Italian Sports Club of Werribee ladies committee has done itself proud. The committee hosted an event for the...
Meet the new chairman for one of Wyndham's biggest fundraising events. Carradin Blyth has taken the reins of the annual Wyndham Relay for Life, with...
One track, one purpose, 25 hours. About 1500 people, among them cancer survivors and carers, flocked to Wyndham Vale Recreation Reserve at the weekend to...
Are you ready to relay, Wyndham? With just on seven weeks to go until this year's Relay for Life, event organisers are gearing up for...
It's never been more important to slip, slop, slap, seek and slide. Summer is officially here and the Cancer Council is calling on Wyndham locals...
The Wyndham Relay for Life will be back in 2017, but this time at a different location. Works to upgrade the Victoria University athletics track...
It's the spin class that lasts 24 hours, all the while raising funds for cancer research. Think Relay for Life, but on spin bikes. The...
Get ready to relay – lives depend on it! Wyndham Relay for Life will be back on the first weekend of April, and it's going...