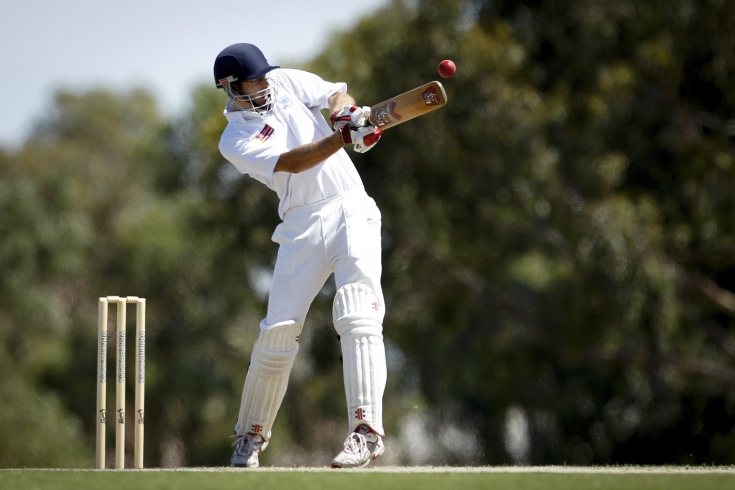 SEABROOK was rescued by an unlikely pair on day one of its local derby clash with Point Cook in the Victorian Turf Cricket Association west B1 at Bruce Comben Reserve on Saturday.
The Saints were reeling at 4-17 before rookie Jake Collins combined with middle-order man Stephen Morgan to pull the side out of the mire in a 95-run partnership.
CLICK HERE for our picture gallery of the match.
Saints skipper Daniel Kilfoy told the Weekly it was one of the gutsiest performances in his time at the club.
"I'm still shocked about the partnership," he said. "It's one of the best I've seen in my time at the club."
Collins, who came in at No.3, is a newcomer to the Saints' line-up.
Still eligible for junior cricket, the teenager played in the morning and backed up in the afternoon, making 44.
"He's the future of the club," Kilfoy said.
"We thought we'd give him a crack in the second half of the year to get him used to playing ones in senior cricket and just the way he played the game yesterday.
"He's going to be a superstar in years to come."
Morgan is a great clubman at the Saints, one of the most respected people around the club.
But it has been hard yards for Morgan to earn a place in the ones, as he has never raised the bat for 50 in the firsts.
On Saturday, he came oh so close.
He fell short on 48, but his iron-willed performance was worth more than the chance to brag about a half century.
"He's one of those people that I've been told is not a ones player and is just a great clubman," Kilfoy said.
"But I've seen different, I've seen a star for this club this year.
"He's just been consistent and he's got one of the biggest hearts you'll ever see.
"He fights till the end."
Raj Sandhu was the pick of the bowlers for Point Cook with 4-15 off 12 tight overs. The Warriors were 0-1 at stumps after seeing out the final three overs of the day.
Werribee Centrals' stunning run of form continued as it embarrassed Kingsville Baptists at Galvin Park.
The Centurions made the right choice declaring on 5-228 after half centuries to Blair Hemmingson, Luke Simpson and Dean Cachia.
The home side had 13 overs to bowl at Kingy and left them in a state of despair on 6-23.
In the senior division, Hoppers Crossing is in the box seat against Airport West-St Christophers at Hogans Road Oval. The Cats made 228, but gained control of proceedings by having the West Saints in all sorts of trouble on 7-44 at stumps.
VTCA SCORES
Senior division: Hoppers Crossing 228 (R Rutley 3-26 Z Racovolis 2-40 L Macumber 2-41) v Airport West St Christophers 7-44
West B1: Werribee Centrals 5-224dec (D Cachia 56 B Hemmingson 56 L Simpson 51 C Duffin 36 D Shanahan 2-18) v Kingsville Baptists 6-23 (AK Edrich 4-12); Seabrook 168 (R Sandhu 4-15 D Hicks 2-22 T Semmens 2-46) v Point Cook 0-1