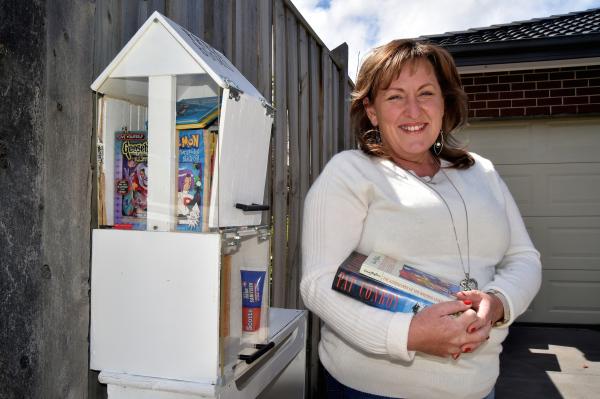 By Alesha Capone
Connie O'Toole has established a neighbourhood library and small seating area outside her Point Cook house for residents to enjoy.
The library cabinet, which Connie made herself, is affixed to a fence at her property's perimeter in Longreach Parade, not far from the nearby park.
Members of the public are welcome to donate and borrow books from the site. Connie has also put some of her own books into the library.
Connie said she established the library "to bring the feeling of community to the area".
Connie – who is well-known among Point Cook residents for running a hairdressing salon at her home – said she hoped her clients would also donate books to the library, once COVID-19 restrictions allow her to start operating again.
She said the library contains a mix of books including children's tales, classics, fiction, non-fiction, biographies, National Geographic magazines and first aid guides.
"The big thing for me is that some people are doing it hard at the moment and I would like to encourage anyone who is struggling financially to feel welcome to take some books," Connie said.
She also said she would like to encourage more Wyndham residents to start their own neighbourhood libraries.
Connie said she had not been expecting the community's response to the library, with many people contacting her on social media or expressing their thanks while walking past her house.
"It has been fantastic, I have had mothers come up and thank me because they can't take their kids to the library during lockdown," she said.