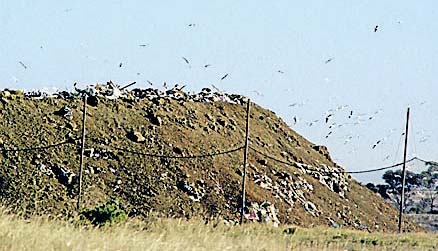 ENVIRONMENTALISTS are urging Wyndham Council to scrap plans for a 45-metre mountain of trash at its Werribee landfill site.
About 20 people met in Wyndham Vale last week to form a working group to mobilise community support and push to halt expansion of the mound at Wests Road.
As reported by the Weekly, the council is applying to the Environment Protection Authority to expand the mound – now 26 metres above-ground – to 45 metres.
According to the council plans, it could eventually tower up to 100 metres,
In a letter addressed to councillors and chief executive Kerry Thompson, the Western Region Environment Group called on the council to cease filling the main landfill cell, begin dispersing waste elsewhere across the site, and meet with a new community working group to revise plans.
This follows mayor Heather Marcus declining an invitation in February to meet with residents living near the landfill site.
Ms Thompson said "every possible measure" was being taken to minimise odour levels. "This includes providing 300 millimetres of cover [compacted earth] each day as per EPA requirements," she said.
Ms Thompson said Melbourne, Hobsons Bay, Yarra, Port Phillip, Whitehorse and Greater Geelong councils used the tip.
The council reaped nearly $29.3 million in tip fees in 2011-12.
Former Wyndham social planner Bernadette George said expansion of the mound went against everything the council fought for in 1998, when it joined a community campaign against the CSR toxic dump slated for the same Wests Road site. "I just can't believe council can do this to its own community."
SEE: Toxic mound in Wyndham to rise to 45 metres