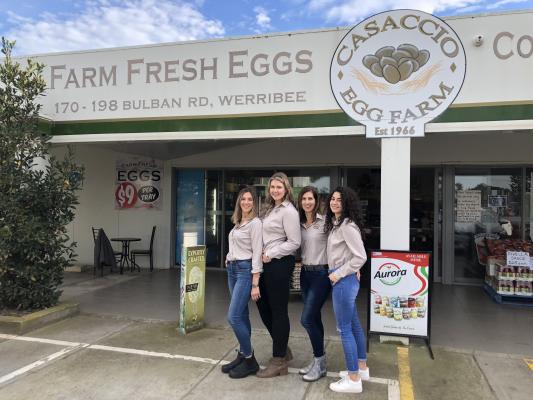 Carole Levy
This pandemic can have us feeling we're 'running around like headless chooks', but at least the real chooks are serene and laying a-plenty at Werribee's own Casaccio Egg Farm.
Australian Eggs has stated: "Agriculture Victoria have confirmed that egg farming, packing and grading facilities, and egg pulping plants have been classified as a critical service and are permitted to continue to operate during stage 4 restrictions."
That's good news because the crowd of Casaccio egg-loving customers are still receiving their home deliveries all around the region, and those who live within five kilometres of the farm are still making tracks to the farmgate store for eggs – and other terrific goodies.
As director (and third-generation egg farmer) Lina Casaccio-Sfetcopoulos says, "We have plenty of eggs to go around. You won't find empty shelves here, and nor will our many, many home delivery customers miss out.
"Besides that, our free-range and grain-fed eggs are much better than anything in supermarkets – and we're way nicer to visit. We all might be masked up but, just as we can still see the smile in our customers' eyes, so will they see ours.
"We're a welcoming bunch of Italians that just happen to be health and food lovers, so we generally have plenty to chat about, too."
Lina and family members Emma Casaccio-Adamo and Nicole Casaccio, are in the process of setting up a memory-jogging online ordering system. This will make it a breeze for the customers who value such help, and is typical of the level of caring community connection shown by the family.
"We're making it easy for customers to place a recurring delivery order. We'll send out an automatic email or text to let them know it's time to order their farm-fresh eggs, with the link to the ordering page included," Lina says.
"To get the most out of their order, customers can get neighbours, friends and family to submit a group order – then they can split the delivery fee.
"And our eggs have a 5-6 week 'best before date' so monthly orders are perfect for saving on delivery costs."
It should be noted that, as an essential service, the farm stays open, but interactions in-store and on deliveries are guided by all the COVID-19 safety protocols.
DID YOU KNOW?
• 
Eggs age more in one day at room temperature than in one week in the fridge.
• 
If an egg is dropped on the floor, sprinkle it heavily with salt for easy clean up.
• 
Egg yolks are one of the few foods that naturally contain Vitamin D.
• 
Storing eggs in their cartons helps keep them fresh.
Casaccio Egg Farm, 170-198 Bulban Road, Werribee. Inquiries: 9741 0185,
 www.farmeggsonline.com.au or join Casaccio Egg Farm's Facebook group.