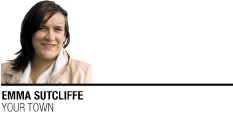 So, my confession of the week is that I can't dance.
I'm so uncoordinated that I try to avoid all social engagements that might involve shaking my tail feather, unless it's in a dark and crowded room after a few glasses of wine.
But there's something about the rhythm of African drums that makes your toes tap, your left hip twitch and your head bounce.
Add a backdrop of an African-style village and some large animals you'll only otherwise see on an expensive safari and it's easy to get lost in the music.
February brings the Rhythm of Africa concert series at Werribee Open Range Zoo.
At the first show of the series last weekend, as sunset lights the towering gum trees with a beautiful golden glow, the seven-piece band Musiki Manjaro are gathering a crowd of dancers.
Toddlers jump around in awkward circles, groups of 20-somethings laugh and shuffle self-consciously and an elderly woman waves her walking stick in time with the beat.
Most people are wearing colourful African bracelets bought from a mobile shop attached to the front of a bicycle or faces painted to look like lions, zebras and monkeys.
On stage, dancers are leading the crowd, like Merv Hughes' stretching exercises mimicked by a bunch of cricketing fans at the MCG. Half are keeping up with the lithe African dancers with their arms in the air, backs curved out and feet stomping. But many are just throwing caution to the wind and dancing like no one is watching.
The atmosphere is relaxed but electric, fun and fabulous, and before I know it the music has worked its magic. Watch out, I'm dancing.
More details: zoo.org.au/werribee
Emma Sutcliffe is a Little River-based freelance writer.