Home
Tags
Werribee Racing Club
Tag: Werribee Racing Club
Werribee Racing Club's new general manager is a "racing man through and through". Adam Wilkinson last week took over the reins from Ashley Baker and...
Werribee Racing Club general manager Ashley Baker says a new era has started for the club, with a strong focus in the 2018-19 season on enhancing relationships with businesses and the community.
Werribee Cup doubles as a fun-filled Christmas party with a visit from Santa.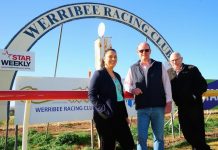 There's been a changing of the guard at the Werribee Racing Club, with a new chairman, vice chairman and events and functions manager. Former vice...
The Werribee Cup will be the season opener when horse racing returns to the Werribee Racecourse this year. Werribee Racing Club will kick off its...
The Spring Racing Carnival may feel like a long way off, but the action is already heating up at Werribee racecourse, with the club's...
Hold your horses … the Werribee Racing Club is back in action for 2017. The club will open its track to the masses on January...
There were ladies who lunched, ladies who paraded and even ladies on the punt in Werribee yesterday. The Wyndham Business and Tourism Association kicked off...
Werribee is getting its very own ladies' day. The Wyndham Business and Tourism Association will kick off racing season at Werribee Racecourse later this month...
Some of the best race horses in the world will be based at Werribee from this weekend ahead of Melbourne's Spring Racing Carnival. This Saturday,...
Meet the Werribee Racing Club's new general manager Glenn Scott. A former race horse owner, Mr Scott is keen to broaden the club's membership base...