The popular Point Cook Pop Up Park is set to return this year. The pop up park will run for eight weeks between February 4...
Famous Australian music icons will play in Werribee's city centre, when Wyndham council's free Pop Up Park returns to Station Place next year. Apart from...
Ease into the weekend by enjoying a free concert this Friday, February 15, in Werribee City Centre's Pop Up Park. Renowned folk rockers The Audreys...
From music concerts and outdoor cinema to free fitness classes and kids workshops, Werribee City Centre's Pop-Up Park is buzzing this summer. The free Wyndham...
Live music, outdoor cinema, community classes, exciting workshops and more are on their way to Werribee City Centre from January 18 – February 24...
Young artists have created books for a miniature library in the Point Cook Town Centre's pop-up park. Students from a studio run by Point Cook...
Point Cook is getting its own pop-up park this week. Volunteers worked around the clock over the weekend to set up the temporary installation at...
Werribee's pop-up park has received the big tick of approval from locals, with thousands flocking to the free outdoor space in the park's first...
Werribee's Station Place will be transformed into a vibrant destination this summer. The space will be taken over by a pop-up park with live music,...
A pop-up park in Point Cook is one step closer to becoming a reality. The project has been short-listed for a grant from the Neighbourhood...
A Point Cook resident has renewed her push to establish a pop-up park. Susan McIntyre has applied for a Neighbourhood Project grant to fund a...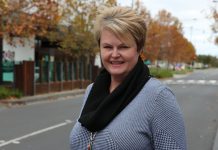 A Point Cook resident is petitioning Wyndham council for a pop-up park. In her budget presentation to Wyndham council last week, Point Cook resident Susan...