The state-of-the-art Wyndham police hub is a step closer with construction starting on the new complex last week. Development officially began last week on the...
Young Wyndham families are big winners from this year's state budget, with millions going towards the construction of two new schools in the area,...
Wyndham council has called on the state government to commit to an integrated Werribee justice precinct when it unveils its 2017-18 budget next week. The...
By Alesha Capone The father of an autistic teenager who was attacked on a Tarneit bus has called on the state government to "get tough...
A man found guilty of a spate of thefts across the western suburbs has been sentenced to two-and-a-half months' jail and placed on a...
A Werribee man has been sentenced to three months' jail after pleading guilty to recklessly causing serious injury to his eight-week-old son. Victor Upokotea-kaukura, 22,...
The family of a 10-year-old boy who died following a Truganina car crash two years ago is struggling to cope without their son and...
A Werribee couple is warning home owners to ensure their properties are properly inspected throughout the building process after mistakes made during the construction...
A Tarneit woman jailed for manslaughter after helping her husband hide the body of her boss, has had her sentence appeal dismissed. Kamna Ramjutton pleaded...
A new pilot program in Wyndham will get young offenders to clean up graffiti around the region. The Youth Diversion pilot program – an initiative...
A Supreme Court judge has dismissed an application to review the sentence of a 26-year-old man, describing his crime spree as "outrageous". But Justice Phillip...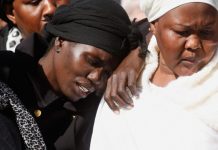 The mother of three children who drowned in a lake at Wyndham Vale has been charged over their deaths. Homicide squad detectives charged Akon Guode,...
The brains behind a failed Werribee South hold-up – a plan foiled when the victim pretended to faint at the feet of the man...