A Werribee playcentre will host a Valentine's Day event for single parents and their children. Tracey Jobe, owner of Bumble Beez Indoor Playcentre, said she...
Tarneit man Nazree Nasir is being hailed for helping to save the life of his friend Shawal Baderi, who experienced a heart attack last...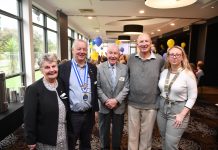 The Sanctuary Lakes Point Cook Probus Club celebrated its fifth anniversary last week. Club members gathered at The Brook Point Cook for the event, which...
Pupils at a Hoppers Crossing school welcomed families and community members for a special event promoting safety and friendship recently. Youngsters at Mossfiel Primary School...
Time for a cuppa: A group which brings together mothers from all cultural backgrounds to learn and share tales of parenthood meets fortnightly in...
Point Cook's Liz Ross says tennis has brought both friendship and love into her life. Ms Ross has been a line umpire for four years...
Volunteers Kathleen Kretzschmar and Jeannine Thorley are part of the close-knit community at Mercy Place Wyndham. The two women are volunteers at the Werribee aged-care...
Two young men have started a sport and mentoring initiative to bring young Wyndham people together. James Kot, 20, and Hassan Nur Hussein, 19, began...
In 1993, a band of volunteers rose to the occasion to save one of Werribee's biggest assets. Twenty-five years later, the Victoria State Rose Garden remains...