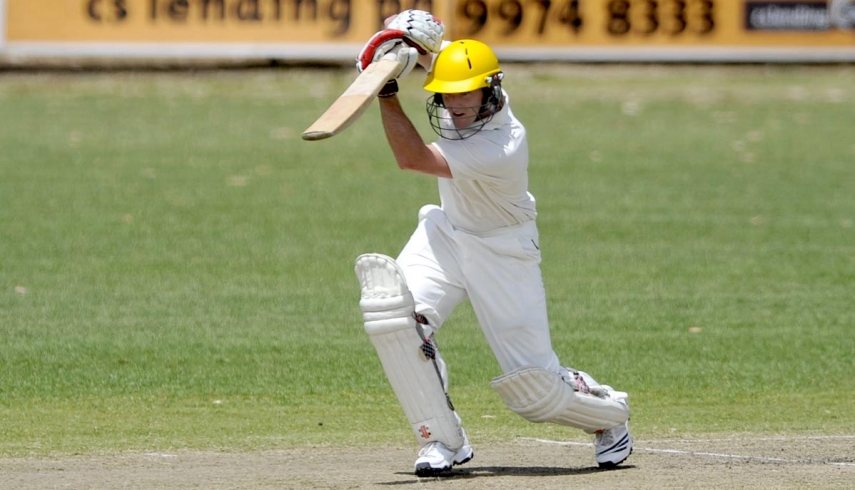 WERRIBEE has taken full advantage of pristine batting conditions at Chirnside Park to set visiting Yarraville a mammoth run chase in the Victorian Sub-District Cricket Association.
The Tigers amassed 9-285 on day one of the two-day clash and took the upper hand in a crucial meeting that will see one side move into the top four while the other stays mid-table.
CLICK HERE for our gallery of the big game.
Tigers captain Shaun Dean told the Weekly it was a total that his side was confident it could defend.
"The outfield was a bit quicker and the wicket was a bit flatter, so it was conducive to making runs. We're pretty happy with what we made and think it's a competitive score."
The Tigers started well with openers Matthew Dean and David Wolfe putting on 46 for the first wicket. The dismissal of Dean (26) rocked the boat somewhat and the hosts lost 3-9 with Wolfe (18) and Tim O'Brien (3) following a short time later. That brought Shaun Dean to the crease and he's been in tremendous touch this summer. He made 56, but also seemed to get under the Eagles' skins. "It seemed like they were happy to get me off strike and I think I got 40 singles in my 56.
"They wanted to have a go at the other batsmen." Jake Purton ensured it was a flawed plan with 34. There were also contributions from Wade McCall (32) and Adam Alifraco (45).
SCORES
Firsts: Werribee 9-285 (S Dean 56 A Alifraco 45 J Purton 34 W McCall 32 S Plumridge 28no MJ Dean 26) v Yarraville
Seconds: Yarraville 0-24 v Werribee 235 (M Burton 85 T Foster 38 R Alifraco 31 S Molloy 25)
Thirds: Werribee 174 (NJ Duxson 79no T Duxson 36) v Yarraville 5-32 (N Buykx 2-1 D Buchanan 2-1)
Fourths: Yarraville 2-54 v Werribee 208 (R Dodemaide 33 D Gage 30 D Snow 28 B Hurn 27 J Russell 25)