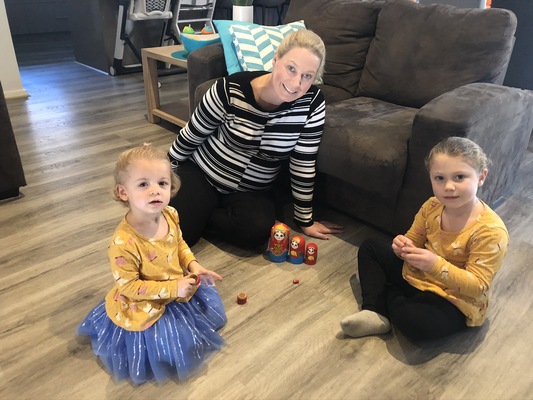 By Alesha Capone
For Emma Slattery, being pregnant during the coronavirus pandemic has presented her with several challenges, but has also allowed her to have more family time.
The Truganina resident is a mother to two girls, four-year-old Lilly and two-year-old Aurelia, and her third child is due in mid-July.
Miss Slattery said there was always a fear of the unknown, and as an expectant parent, the pandemic had amplified this.
She said medical appointments have been "very different" when compared to her previous two pregnancies.
"Not having as many, and most of them being over the phone, was a difficult thing to get your head around," she said.
"It's hard enough trying to remember all the things you want to ask in a face-to-face appointment, let alone when you are on the phone with kids fighting for your attention.
"When you did have appointments, ultrasounds, specialists, etc there were no support people or children allowed to come in with you."
She said that had presented more things to think about, such as: "Who can I leave my children with while I have appointments?" and "Who has been self-isolating so that I know it's safe to leave the kids with them?"
Ms Slattery said she understood and respected the precautionary measures medical outlets are taking during the coronavirus outbreak.
But she said not having as much contact with the hospital meant she didn't find out her iron was extremely low until late in the pregnancy.
"I spent a lot of days on the couch where all I wanted to do was sleep, but then I felt so guilty for the girls because I just didn't have the energy to play with them or do anything with them," she said.
"Since that problem has been fixed I have so much more energy and am so much happier, I just wish I knew sooner."
On the positive side, Ms Slattery said that she has enjoyed having the time at home to play, cook, learn and have fun with her two daughters.
"I feel I am lucky to be able to use this time to watch them grow and learn," she said.
Ms Slattery said that even though pandemic restrictions were now easing, she was "still worried about bringing a baby into the world while COVID-19 is still such a big factor".
"As a family, we are doing everything we can to prevent the spread and that's the best we can do for now," she said.
"We just have to stay hopeful that we will all stay happy and healthy and continue to do what we are doing."