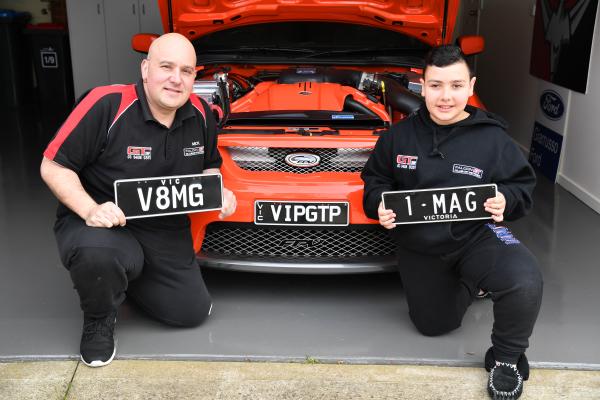 By Alesha Capone
Werribee's Michael Giarrusso is among the thousands of Wyndham residents who can claim to have a number plate as individual as he is.
Figures from the Department of Transport (DOT) show that five Wyndham suburbs ranked among the top 10 Victorian areas for customised number plates in the 2020-21 financial year.
Craigieburn residents topped the list with 998 customised number plate owners, followed by Tarneit with 918 custom number plate owners.
Point Cook placed fourth with 771 custom plate owners, followed by Truganina (693 custom number plate owners) and Werribee (657 custom number plate owners).
Hoppers Crossing came in at ninth with 501 customised number plate owners.
A DOT spokesperson said the Wyndham municipality "has been a magnet for custom plates".
The department uses funds raised through the purchase of custom plates to maintain and upgrade Victoria's roads.
Mr Giarrusso, a Ford fan, said he purchased his first customised number plate when he turned 18, as many of his older friends already had one.
The plate reads "MVG", representing Mr Giarrusso's initials.
Mr Giarrusso's also ordered a number plate for his son Michael, upon his first birthday.
The plate spells out Michael's initials, "MAG".
Michael, who was named after his grandfather, is now aged 10.
The "MAG" number plates are affixed to a Falcon GT which is known as "Michael's car".
"We are in a car club and we show the car, it is a very popular model and it has won many trophies," Mr Giarrusso.
The car's dash has also been signed by famous Canadian-Australian racing driver Allan Moffat, a family friend of the Giarrussos.
Young Michael, a car enthusiast like his father, enjoys attending V8 races alongside Allan and his dad.
Mr Giarrusso's other customised number plates include "VIPGTP" and "V8MG".
He said it could be hard to get number plates with the letter "M", as it is often used on government car plates, and because "MG" is also a popular car model.
Mr Giarrusso said he liked classic-style custom number plates.
"You want something you can put on a vehicle, that you can move from car to car, that won't date," he said.
For details on purchasing custom number plates, see: vplates.com.au/