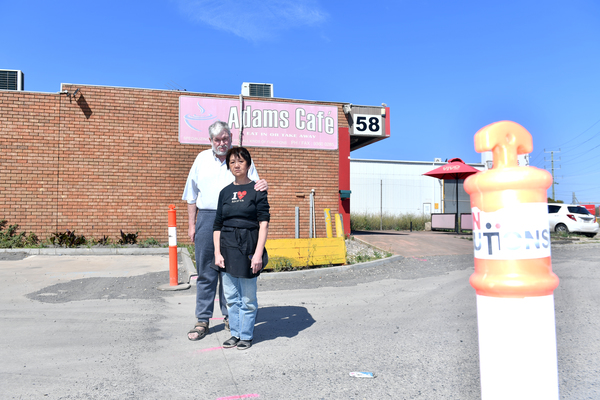 By Alesha Capone
The owners of a Laverton North café say they fear they will be driven out of business because of road changes being planned as part of the state government's $1.8 billion Western Roads Upgrade project.
Richard Rennie and his partner Helen, who rent and operate Adams Café on Dohertys Road, said that many of their clients were drivers of large trucks, including B-doubles.
Mr Rennie said that under plans to upgrade Dohertys Road, the driveway to enter and exit the café would be significantly reduced, meaning B-double drivers would not be able to access the café.
He said that when he started at the business, the café's driveway frontage measured about 75 metres, which gave trucks plenty of room to enter and exit.
He said that with roadworks currently taking place, this frontage had been reduced to about 35 to 40 metres.
Mr Rennie said that the roadworks, which had been taking place since 2017, had caused a "headache" for the café.
"Prior to the roadworks, we were taking in about $1100 per day," he said.
"That's now down to about $200 to $300 a day.
"We're really struggling and if this goes on much longer, we'll be out of business."
Opposition Leader David Davis raised the café's plight in state Parliament last month. He said that while the opposition supported upgrading roads,
Mr Rennie and Helen were "in a terrible position".
"Clearly a six metre opening is not large enough for a B-double or a massive rig," Mr Davis said.
"This is effectively putting Helen and Richard out of business."
Major Road Projects Victoria delivery director Steve Cornish said the authority "has a number of measures in place to help businesses prepare for potential impacts during construction and we will continue to work with Richard and Helen to minimise those impacts as much as possible".
"After meeting with the owners of Adams Café, we completed an extensive review of our road design and found a solution that means trucks will still have good access to the café from the new roundabout," he said.