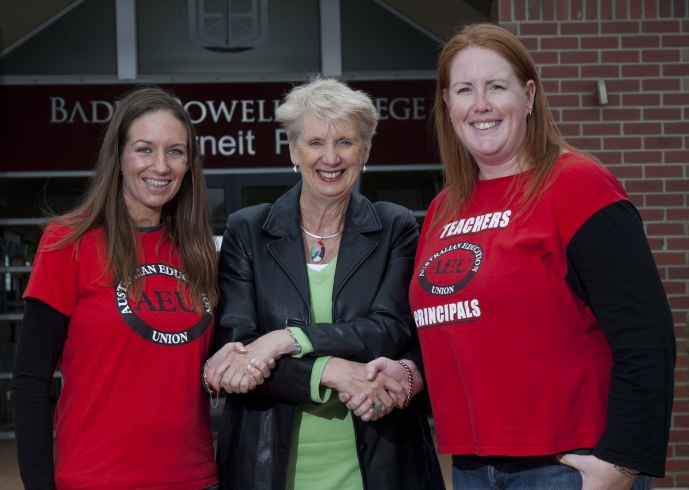 TEACHERS at Wyndham's public schools are back to planning excursions and extracurricular activities after a lengthy pay dispute with the state government ended last week.
The deal, which is yet to be ratified, comes 18 months after negotiations began between the government, principals, teachers and education support staff.
Industrial action culminated in three 24-hour strikes, a series of staggered half-day work stoppages and teachers refusing to write on students' report cards.
The deal includes pay increases of between 16 and 20 per cent for teachers, including a $1000 signing bonus.
But the government has released different figures – a 3 per cent pay rise in 2013, 2.75 per cent in 2014 and 2.75 per cent in 2015. Critics say the disparity between the figures is because, under the new agreement, progression up the pay scale is no longer guaranteed. Teachers will ratify the pay deal in a ballot next month.
Premier Denis Napthine and the education union said the deal represented a "historic partnership". "This agreement represents a win-win outcome," Dr Napthine said.
He said the "circuit breaker" was his decision last month to publicly drop the government's push to introduce performance-based pay.
Baden Powell P-9 College principal Julie Mason said the school's 171 teachers and support staff were breathing a sigh of relief. She said the deal seemed "a fair outcome, especially given the tough financial times for everyone".
Ms Mason said staff had since organised two school camps.
"These are the things people don't realise – the number of hours beyond a school day we put in to give a richness in education," she said.
Rob Graham, assistant principal at The Grange P-12 College in Hoppers Crossing, said staff were glad the dispute was over.
He said the 120 teachers at the school had not had enough time to fully analyse the new deal, but were eagerly awaiting more information.