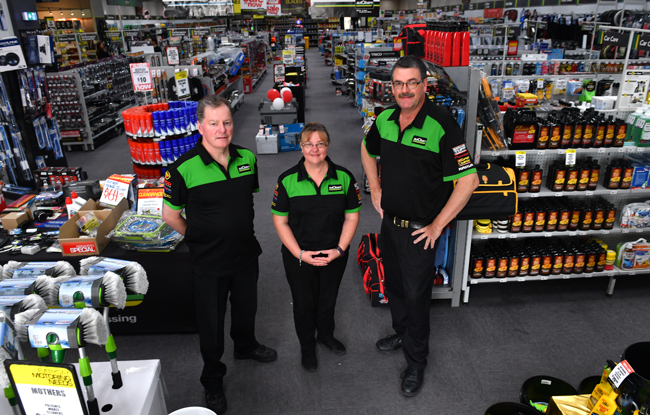 By Carole Levy
When Ross and Linda Cooper rescued Autobarn Hoppers Crossing from looming closure three years ago, they had a simple philosophy – win one new customer every day.
"It must be working," says a happy Linda.
"Along with our boys, Dougie and Josh, we are now one of the fastest-growing stores in the Autobarn stable and the biggest in Melbourne.
"We took a fresh approach to the business, while our store manager, Glenn Sullivan, contributed his vast retail experience. "Glenn's worked with Brash's, Harvey Norman and RetraVision – and now our customers get to benefit from his expertise."
Ross and Linda are no strangers to the business world.
"We previously owned and operated a national transport tanker operation based in Hoppers Crossing," Ross explains. "We have to say that the transition from transport to retail has been fun."
"Customers often see a black or yellow labrador roaming around store," Ross says. "That's because our family is a respite carer for Seeing Eye Dogs Australia.
"Di, who handles our accounts, also has a working seeing eye dog with her as she's legally blind."
The Cooper family shows a vital interest in the community and lends a hand in many ways.
All defence personnel, police, fireys and ambos get an in-store discount for starters, but sports and car clubs and even men's health groups receive this Autobarn's support.
Beneficiaries include Ford Muscle Car Club, Werribee and District Angling Club and Hoppers Crossing Football Club, as well as Cruising Knights, Renegade Hot Rodders and Red Knights International Firefighters Motorcycle Club – among others.
"Perhaps our proudest sponsorship is of William Soalsby, who has special needs and is the No.1 waterboy for Hoppers Football Club's senior team," Ross says. "We also get on board with the club's annual car show which supports men's health and the EJ Whitten Foundation."
Aside from all that "fun" stuff, the store has an extensive audio and entertainment area with all the expected brands – Alpine, Rockford Fosgate, MTX and Pioneer included. It's also carries Blackvue dash cameras and Viper car security, and has the largest range of car-care products, car scents and oils in the region.
"As Castrol says, 'oils ain't oils', so ask our knowledgable staff because at Autobarn Hoppers Crossing, we know how!" Ross says.
Three professionals fit and install products, with customers getting an extended warranty on products fitted in-store.
Autobarn Hoppers Crossing, 1/194 Old Geelong Road, Hoppers Crossing. Inquiries: 9748 8477