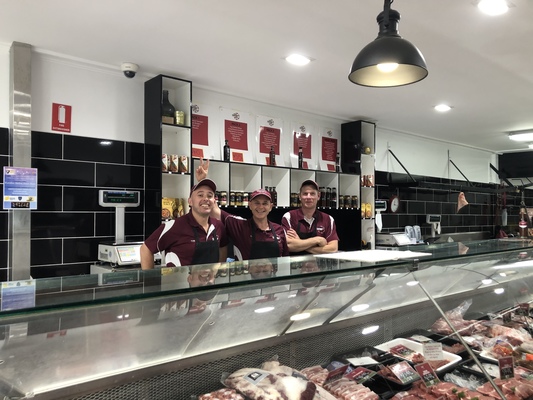 Esther Lauaki
Werribee Station Street Meats has been a pillar of the community for nearly 30 years and continues to provide family staples throughout the COVID-19 pandemic.
Toni Nestorovski has been a store stalwart since he was a teenager and now runs the business.
"The business was established in 1992," Toni says. "I started my apprenticeship in 2002 at the age of 18 … In 2012 I became a part owner in the business as I felt it was the natural progression in my career.
"Last year I became the sole owner as my colleagues retired.
"It was always a goal of mine, as a young adolescent, to own my own business and what better business to own than one you have worked in your whole working life?"
Toni said customers shop at the small family-operated butcher because it offers the finest quality meat, a great selection of marinated products, crumbed products, homemade gourmet sausages, hamburgers and personalised customer service.
"Knowing how customers like their cuts and knowing customers' names is important," Toni says.
"We pride ourselves on providing quality products that are competitively priced with all meat sourced and hand selected by a trusted industry expert."
The retail butcher recently launched a home delivery and online service for extra convenience to support locals through the COVID-19 emergency.
"We have the storage capacity to age our meat to the optimal level that guarantees we provide meat of the highest quality," Toni says.
"We are a full service butchery providing select cuts to suit customers' needs.
"We stock ready to cook meals such as stir fries, pastries to complement our beautiful steaks or our own handmade flavoured sausages.
"Our qualified and expert butchers are happy to offer helpful meal advice.
"I love my team, my customers and the sense of belonging to our community.
"I hope the community continues to support small local businesses like ours because without their support, small business doesn't survive."
Werribee Station Street Meats, 24 Station Street, Werribee. Inquiries: 9741 2735, email werribeestationstmeats@gmail.com or visit www.werribeestationstreetmeats.com