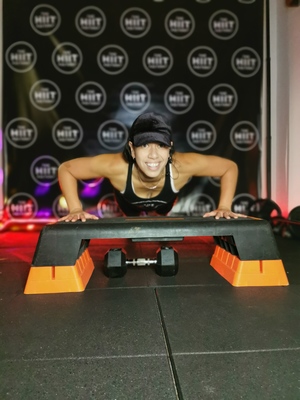 Alana Richards
A love of health, wellness, exercise and training brought people together when The HIIT Factory opened its doors in September 2017, now those same people are helping each other through the COVID-19 pandemic.
Owner Renee Lee says The HIIT Factory has created the delivery of HIIT #LIVEinyourloungeroom and is delivering live sessions to clients to keep them motivated and healthy.
"You don't need a lot of space or a lot of equipment [if any] to be able to get a session done," Renee says. "Thirty minutes is all we need for any of our sessions and the great part is, your children, husband, wife and family members in your home can join in as well.
"There's something for everyone here at The HIIT Factory Werribee."
The HIIT Factory is a fast, fat-burning fitness establishment that offers group training sessions catering for all levels and ages.
A variety of session formats are offered including HIIT Step, Insanity, FBX, P90X, Core De Force, Yoga, Pilates and some exclusive formats to The HIIT Factory, including Tabata21, Raise The Bar, HIIT Skip, Booty Burn, HIIT Strength, AbLab and KettleHIIT.
The HIIT Factory Werribee, one of nine franchises and the fourth to open, is more than just a gym.
"Whether someone trains five times per week or only manages to get one session in amongst their everyday lives, each person forms part of something more than just a gym, more than just a group of fitness people – we are a community, we are a family.
"I absolutely love what I do. Not only being able to deliver these sessions, but to see the transformation in people from the first time they enter the factory and their ongoing journey through their love of HIIT.
"It is a way to kickstart your day and set yourself up with the amazing energy you need for the day ahead, and it is a way to let go and relax into your evening knowing you have exercised and have taken time for you, your health and wellbeing."
"We want you to be a part of it with us," Renee says. "Now is your time to take up the amazing offer of seven sessions in 7 days for only $7 #LIVEinyourloungeroom.
"Sessions are available all week, check out our website for more information and to see the timetable."
The HIIT Factory Werribee, 3 Loop Road, Werribee. Inquiries: 0424 415 069, email renee@thehiitfactory.com.au or visit www.thehiitfactory.com.au/werribee