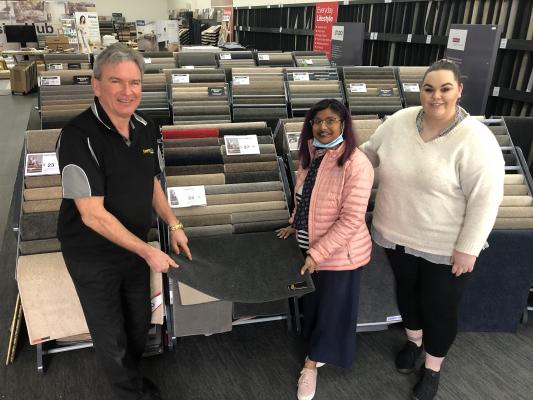 Esther Lauaki
If you're busying yourself with some home reno's during lockdown, Hoppers Crossing Carpet Court is open and an ideal place to see choices for flooring and window coverings.
Store manager Ron May reassures the community that the business is following all guidelines to ensure customers' safety during the pandemic.
"The store has plenty of history, advice and knowledge to offer," Ron says.
"We are following all the correct procedures in hygiene and social distancing so that customers can have the confidence to come and see us and feel safe doing so."
Ron leads the dedicated team who will ensure an inspiring and completely hassle-free shopping experience.
"We have a growing network of 200 stores across every state and territory in Australia, so our bulk buying power is second to none," he says.
He says there is a range of offerings in all styles and colours catering to a surge in DIYers visiting the store.
The experienced team is on hand to offer sage advice on the extensive range of products available and latest trends in interior furnishing with guidance from one of Australia's best known and respected interior designers Darren Palmer and experienced home renovator Shelley Craft, both Carpet Court ambassadors.
"Their design and reno know-how and expertise, combined with the specialist product knowledge of the Hoppers Crossing team, means we've always got our fingers on what's hot and happening in the design scene," Ron says. "We're also constantly evolving and growing our product ranges to ensure we provide creative and practical solutions for anyone looking to create a beautiful sanctuary at home."
Hoppers Crossing Carpet Court can also deliver budget-friendly options in flooring that will give any home a designer look and feel for a fraction of the expected price.
"We can definitely help you find a solution to meet your needs," Ron says. "These days the choices for flooring are seemingly endless with options from carpet to concrete, laminate, vinyl, timber and more.
"But we always recommend you keep in mind that your flooring is much more than a design decision, it also has to be functional enough to cater for your lifestyle."
Options for the ever on-trend carpet include an array of wool or synthetic fibres and designs from which to choose from.
Then there's hard flooring, multilayer hybrid, timber, vinyl, bamboo or laminate.
The huge range of window coverings come in a variety of colours and styles with roller blinds, vertical blinds, panel glide, Venetian, Roman or indoor shutters.
Hoppers Crossing Carpet Court, 192 Old Geelong Road Hoppers Crossing. Open 9am- 5.30pm Monday – Friday, 9am – 5pm Saturday and 10am-5pm Sunday. Inquiries: 9749 3811 or visit www.carpetcourt.com.au