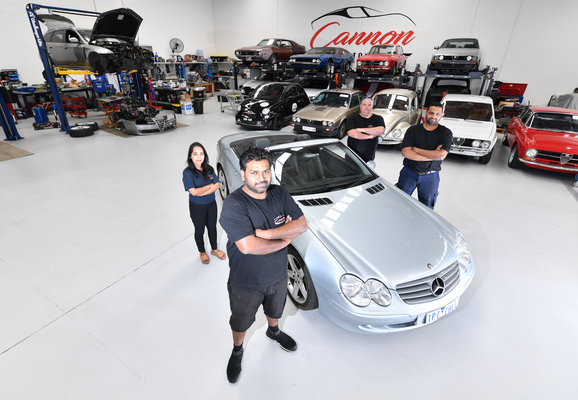 Alana Richards
Cannon Motors has a diverse set of customers from all walks of life and various service industries; tradies, healthcare workers, teachers, single parent and many more.
Manager Hari Haran says in light of the current COVID-19 pandemic the team at Cannon Motors is trying to do what it can to make people's lives easier amid the restrictions in place.
"Certain groups of people are unable to travel to their local mechanic or dealership to get their logbook service completed due to the increasing workload during these trying times," Hari says.
"This is mostly applicable to healthcare workers and essential service workers.
"For the rest of us who are heeding the government's advice to practice social distancing, we are staying home to ensure the safety of our families and as a result … not travelling for non-essential services such as going to your local mechanic or car workshop."
Cannon has introduced contactless servicing in Wyndham, allowing customers to still take care of their vehicle but eliminating the need for them to leave their home.
The contactless servicing process is simple – a Cannon Motors crew member collects your car from your home or workplace and takes it back to the workshop. The car's main touch points – steering wheel, door handles, dashboard, gear lever – will be sanitised with hospital-grade sanitiser to kill any bacteria. The car will then be serviced or repaired as per the agreement with the customer. Constant communication and updates will be provided to ensure transparency in regards to pricing, work performed or parts required. Once done, the car will be returned to the customer with an invoice and mobile EFTPOS machine.
"We have also taken extra precautions in the workshop area for the safety of our staff and customers," Hari says. "There is hand sanitiser placed around the workshop, to encourage staff to regularly sanitise their hands, and face masks are required to be worn when interacting with another person. The workshop area is also regularly cleaned thoroughly using disinfectants and other cleaning solutions."
On top of the new contactless servicing initiative, Hari is pleased to offer a 20 per cent discount for all healthcare workers.
"It's our way of thanking them."
Cannon Motors performs a wide range of servicing, including major, minor and logbook services, general and major repairs on engines, brakes, suspension and electrical, tyre services, vehicle diagnostic scanning, engine tune-ups and rebuilds, pre-RWC inspections and repairs and performance upgrades.
Cannon Motors, 
Inquiries and bookings: 8360 9712 or 
0433 606 253, visit www.cannonmotors.com.au or Facebook and Instagram @cannonmotorsau